Regardless of the size or scope of your next event, you can rely on Staci's Catering to help you make it an outstanding gathering. You can depend on us to provide you with excellent foods that meet the dietary requirements of your guests, as well as comprehensive event planning.
We're passionate about the food we prepare and share with our clients, and we'd love to have the opportunity to help you provide your guests with a delicious meal.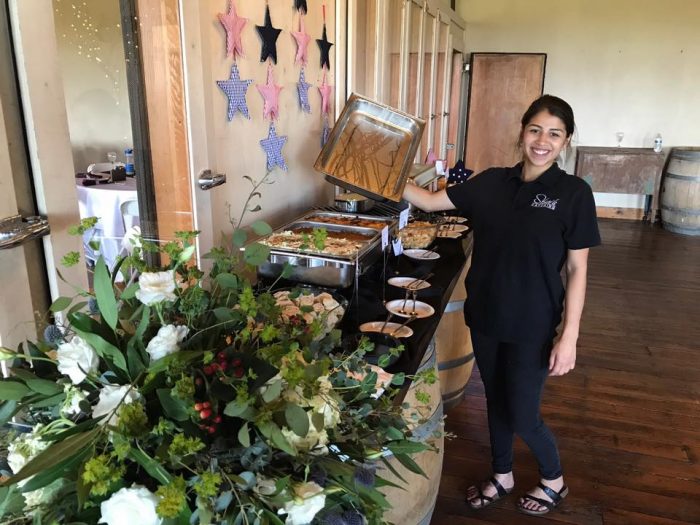 Schedule Catering Services
To learn more about our catering and event planning offerings, or to secure our services for your next family gathering or corporate event, contact one of our friendly and professional representatives today.
3108 W Washington Ave Yakima, WA 98903
FAQ's
How can I save my date?
A $200 deposit saves-your-date and applies to your invoice.
Can we create our own menu?
Most of our clients make selections from the menu we provide, but if you have a special dish, recipe or request you would like included, then please let us know and we will do what we can to accommodate you.
How do I place my order?
You can either send us an email or give us a call. We are more than happy to walk you through the process and answer any questions you may have.
Many of our guests have dietary restrictions, can you accommodate them?
Certainly, our services are very flexible. Specially prepared meals are out forte! We have created gluten-free, nut-free and dairy-free meals in the past and have no problem doing the same for you. We at Staci's Catering don't see dietary restrictions as an obstacle, but rather as an opportunity to be creative and try something new.
How do I get a per person price?
Since everything on the menu is based on 24 people just add up the price of the items you chose, divide by 24 and you will have your per person price.
Do you offer Menu Tastings?
Yes, definitely. We want to make sure that you are totally satisfied with the menu we provide for your event, so we are happy to prepare a couple of items for you when you are planning your event menu. Please be sure to let us know if there are any menu items you are particularly interested in tasting, and how many will be attending the tasting.